New: wall sleeve FU-KFR
High flexibility on the construction site: The FU-KFR wall sleeve can be individually adapted to all wall thicknesses or extended as required using the integrated sleeve.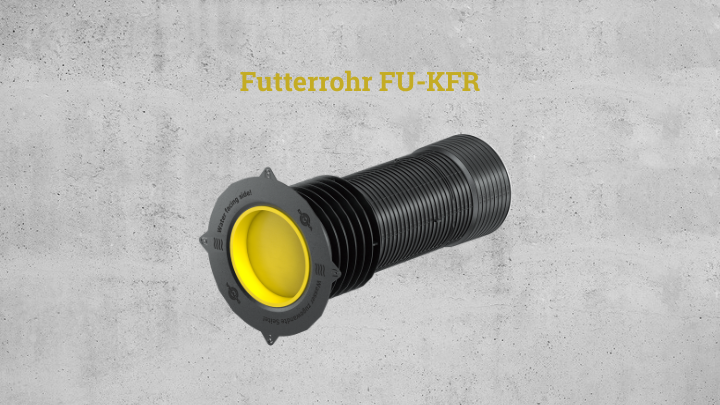 Once the wall thickness has been determined, the wall sleeve is easily shortened at the appropriate cutting edge. No time-consuming measuring necessary: The wall sleeve has a sawing area with guides and a length scale, making assembly quicker and easier.
The adhesive flange with its special, grained surface ensures optimum adhesion during the manufacture of liquid waterproofing materials. The four integrated fixing lugs ensure stable fixation to the formwork. Likewise, integrated fastening lugs enable firm fixation with the aid of a binding wire. Dimensionally stable water stops ensure high longitudinal water tightness. The wall sleeve is suitable for pressurised and non-pressurised water.
A clean thing: The supplied sealing covers protect the wall sleeve from contamination during the shell construction phase. After the shell construction phase, the FU-KFR is ready for installation. An argument for sustainability: the plastic lining pipe is made of 100% recycled ABS.
Applications
for pressing and non-pressing water
Cut-out for penetrations
Use in structures to be built
for waterproof concrete structures (white trough)
for element walls
When used with liquid manufacture waterproofing materials (black trough)
with adhesive flange according to DIN 18533
Product advantages
Optimally designed inner wall to accommodate the UGA sealing systems
Length scale simplifies length adjustment on site
Can be extended on site with wall thickness > 500 mm
low weight
Fastening lugs allow variable fixation in the reinforcement
with adhesive flange for on-site application of a:



Thick coating (KMB/PMBC) for pressing water (WE2.1-E)
flexible polymer-modified thick coatings (FPD) for pressurised water up to 3 m water column (W.2.1-E)
Mineral sealing slurry (MDS) or liquid plastic (FLK) for non-pressurised water (W1-E or W3.E)
a fresh concrete composite film

Technical details
Gas and watertight
Tested according to FHRK test basis GE 102
Radon-tight - according to FHRK leaflet MB 101, meets the requirements for radon precautionary areas